Latest publication from CyMoBase
This is the update of our 2007 Genome Biology study about myosins.
M. Kollmar & S. Mühlhausen (2017)

BMC Evolutionary Biology 17, 211.
A database for cytoskeletal and motor protein sequence information
Do you know?
Search Module: Sequence Meta Data

In the Sequence Meta Data Search Module sequences are selected based on four different types of information: new, pseudogene, partial and fragment. The default setting for each category is 'ignore' meaning that all sequences are included independently of whether they are part of the corresponding category of not. Options 'yes' and 'no' either include or exclude sequences of the corresponding category.
All sequences in the database get a version number so that changes can be tracked. With the version selection it is possible to select datasets that for example belong to one of our publications or that correspond to a specific time point in the history of our database. The default setting includes all sequences from the first to the last version.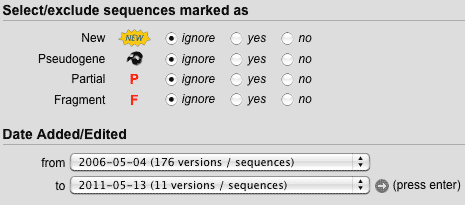 Newest sequences in CyMoBase
No sequences added to CyMoBase in the last year.